Meet My FEMA Flunky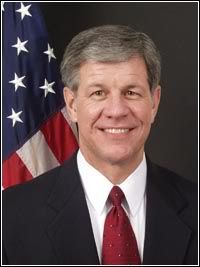 "...
Mr. Maurstad
was the Lieutenant Governor of Nebraska, a position to which he was elected in 1998. In that position, Mr. Maurstad served as federal liaison and tribal liaison and chairman of the Nebraska Information Technology Commission. During his tenure as lieutenant governor, he also worked with the Department of Education and the Department of Health and Human Services on early childhood learning issues and created a program to recognize young people from across Nebraska for their achievements and personal courage.
"Mr. Maurstad had previously served as a member of the Nebraska Unicameral Legislature. He had also previously served on the Beatrice School Board and was mayor of that city.
"Mr. Maurstad holds a bachelor of science degree in business administration and an MBA from the University of Nebraska, Lincoln."
To be fair, education in America is becoming a federal disaster.
Via
Atrios
.