Both Ways, Either Way: Billboard Contest
I spent all this time using Photoshop to design a Both Ways Bob billboard for
ProgressNowAction's billboard contest
, only to find that in their contest I have to choose from a selection of pictures and then caption it.
Oh well, here's my billboard, anyway.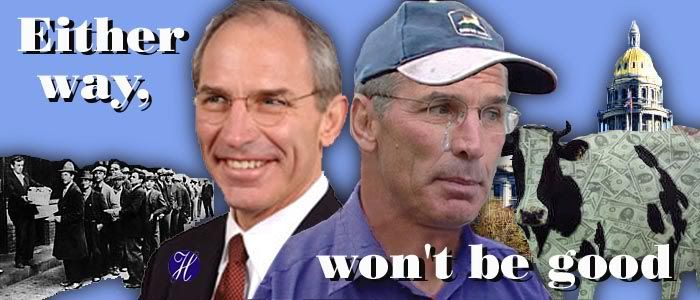 Yeah, my husband didn't really get it, either. The point is, it doesn't really matter which side of any issue Bob comes down on, he's gonna f&*# up Colorado. The right side is the cash cow of the capitol, the left is a breadline, and I'm making fun of him as a dairy farmer who cries with sentiment and a calculating banker who will line is own pocket.
But I did something similar for the contest using their prepackaged images.
Keep your fingers crossed for me.