Farkalicious Links
End of Death Penalty? - The Hippocratic Oath may be causing more and more doctors to refuse to participate in executions, which means states can't comply with the "no cruel or unusual punishments" clause.


In comments to a link about Duncan Bremer being misquoted about his desire to aggressively evangelize Muslim nations (he wasn't misquoted), elchip posts a chart of the favorable opinions of the Big Three religions about various nations.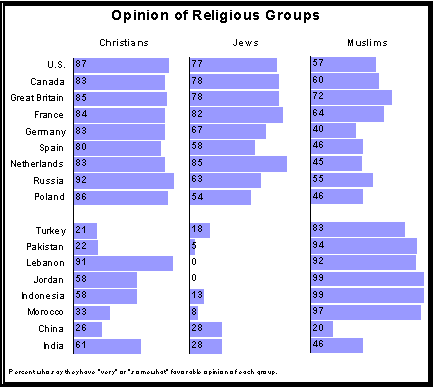 Note Israel's opinion of Lebanon. Not Hezbollah, Lebanon. That explains quite a bit.

Elchip also posts other religious opinion charts further down in comments, but no source.


In that same thread, Tatsuma declares Germany is instituting a points system for Jews to immigrate. Elchip finds the link, but it doesn't look like as bad a system as Tatsuma makes it out to be. Previously, all Jews were allowed automatic entrance, however:


The Federal Office for Migration and Refugees in Nuremberg will administer the new system, which government sources say is necessary to prevent Jewish officials being overwhelmed.

Many Jews coming to Germany have little affinity with the religion and have never worshipped in a synagogue. But on arrival they receive grants of money, clothing and food from federally funded Jewish organisations.

The Central Council of Jews, which represents Jewish interests, welcomed the move, calling it "transparent and correct". However, Aaron Breitbart, of the Simon Wiesenthal Centre in the United States, said the restrictions could have a psychological impact on some older Jews. "It shows that times are moving on and memories are fading," he said.

The points scheme will be based on education, religious orientation and occupation. Those with at least 50 out of a possible maximum of 105 points will be allowed to settle in Germany.

A university graduate will automatically gain 20 points and a good working knowledge of German bestows 25. Experience in a profession is worth 10 points and the likelihood of working with Jewish organisations a further 10. Victims of Nazism will still be admitted automatically.



It looks like the intent of the legislation is to make sure people aren't just using a Jewish name to gain automatic entrance, taking advantage of the free aid, and to increase the robustness of the general Jewish community in Germany.


Homestarrunner.com - Strong Bad emails. Games. Downloads. Fun.